Uni-Solar PVL-128B 3,840 Watt Carton of 30 128 Watt Solar Panels 4" Wires - DIY
SKU:

44032

UPC:

Condition:

New

Shipping:

Calculated at Checkout
Description
Uni-Solar PVL-128 3,840 Watt Carton of 30 128 Watt Solar Panels 4" Wires. DIY Carton of 30 x 128 Watt Flexible Solar Panels with 4 wires for connection (3,840 Watt total)

We will include Free Junction Box with MC3 Connector and Wires with every panel purchased.
Maximum Power (Pmax): 128 Watts
Nominal Operating Voltage: 24 Volts
Watts (PTC): 121.2 Watts
Max Power Voltage (Vmpp): 33 Volts
Max Power Current (Impp): 3.88 Amps
Open Circuit Voltage (Voc): 47.6 Volts
Short Circuit Current (Isc): 4.8 Amps
Max System Voltage: 600 Volts
Module Efficiency: 6.2%
Lightweight & Flexible
Easy Peel & Stick Application
Virtually Unbreakable (No Glass)
Shadow & High Heat Tolerant
Frame Material: Frameless
Module Connector: Solder Point with 4 wires on Bottom of Panel. No MC Connectors (Please see photos)
This panel has no UL rating sticker
Cells Per Module: 20
Bonding adhesive factory-installed on the back of the laminate
Panel Weight 15.5 lbs.
Panel Dimensions 18' x 15 3/8 x 0.2
Uni-Solar panels are lightweight, flexible and directly adhere to many roofing surfaces avoiding penetrations. Each cell is connected to each other via bypass diodes. Therefore, if one cell is shaded or soiled, only the power output of this one shaded cell is lost – usually less than 4.5%.These panels are less than 1/5th the weight of crystalline solar panels and are designed for membrane and metal roofing system applications. Here is a video with many examples.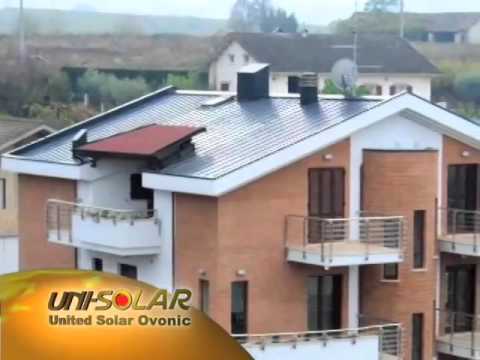 UNISOLAR PVL-136 Solar Power Amorphous Flexible PV Panels - YouTube
Video will open in a new window
[isdntekvideo]
View All
Close