Uni-Solar SHR-17 17W Solar Roofing Shingle - Flexible Amorphous - New Old Stock
SKU:

51626

UPC:

MPN:

SHR-17

Condition:

New

Shipping:

Calculated at Checkout
Bulk discount rates
Below are the available bulk discount rates for each individual item when you purchase a certain amount
| | |
| --- | --- |
| Buy 15 - 29 | and get 10% off |
| Buy 30 or above | and get 20% off |
Description
Uni-Solar SHR-17 17W Solar Roofing Shingle - Flexible Amorphous - New Old Stock

The Uni-Solar SHR-17 17W Solar Roofing Shingle is a New Old Stock solar shingle made in the USA in 2007. At that time it was honored by Popular Science with the Grand Award in Best of Whats New in Environmental Technology. Also Won Discover Magazines Technical Innovation Award for Best Innovation.
These are sold by the Shingle which produces 17 watts of power (9 Volts at 1.9 Amps) and covers about 3 square feet. They were designed to be used in place of asphalt shingles where appropriate. Each shingle is 12 inches wide by 86.5 inches long and the 18 gauge positive and negative wires extend from the bottom of the panel. Each shingle is made up of 12 solar cells connected within each shingle. Each of the 12 cells is 5 by 7 inches in size and produces approximately 1.4 watts (1.4 watts x 12 cells).
Even though these panels were made for rooftops we find they can work well for alternative smaller vehicle RV and Van applications as 12 Volt Battery chargers. When 2 panels are connected in series they will product 18 Volts at 3.8 amps (34 watts). Be sure and always use a charge controller to protect your battery. Because of their flexibility and smaller size (7 feet long) they will work for applications where the larger Unisolar PVL panels that are over 16 feet in length would not fit.
These solar roofing shingle panels are New Original Stock. Manufactured during 2007 and have been in storage since. The PV shingle face is textured to blend and complement the granular surface of conventional surrounding shingles. Once in place, the suns warmth helps bond shingles together forming a weather-resistant seal. Cell exposure 5.0 inches (12.7 cm) x 86.4 inches (219.46 cm).
Uni-Solar sadly filed for bankruptcy in 2012 and went out of business. Not due to the quality of the solar panels but because of falling solar prices from offshore manufacturers. As such these panels no longer have manufacturer support or warranty. These panels were originally sold with 20 year warranty. As a consolation we have sold over a million watts of Unisolar panels since 2012 with no defective panels. The manufacturing process was so refined that all defects were caught before the panels were completed and packaged.
This listing is for one single shingle. We have also listed them in their factory carton of 15 at a discounted rate. Please contact us for details!
DOWNLOAD: Owner's Manual & Installation Guide
DOWNLOAD: Specifications
DOWNLOAD: Specfications and Installation 1 Page Guide


SPECIFICATIONS:
Rated Power (Watts): 17
Max Power Point VMPP (V): 9
Max Power Point IMPP (A): 1.9
Open Circuit Voltage (Volts): 13
Short-Circuit Current (Amps): 2.4
Shingle Length (in./mm): 86.4 in./2195 mm
Shingle Width (in./mm): 12 in. (5 in. exposed area)/305 mm
Weight (lb./kg): 4.8 lb./2.2 kg
Customer-Supplied Substrate: Wood Deck and Fire Retardant Underlayment
Minimum Slope 3:12 (15 ft.)
Maximum Slope: 21.12 (60 ft.)


According to the Brochure Shingles Comply with the Following Qualification Tests:
Capable of Withstanding 80 mph Wind Speeds
Meets IEC 61646 Requirements
Thermal Cycling
Humidity-Freeze Test
Damp Heat Test
UV-Test
Wet Insulation Test
Mechanical Load Test
Hail Impact Test
Robustness of Terminations Test
Uni-Solar panels are lightweight, flexible and directly adhere to many roofing surfaces avoiding penetrations. Each cell is connected to each other via bypass diodes. Therefore, if one cell is shaded or soiled, only the power output of this one shaded cell is lost – usually less than 4.5%.These roofing shingles are less than 1/5th the weight of crystalline solar panels and are designed to replace the need for asphalt shingles. Here is a video with many examples of the various types of panels Unisolar Made.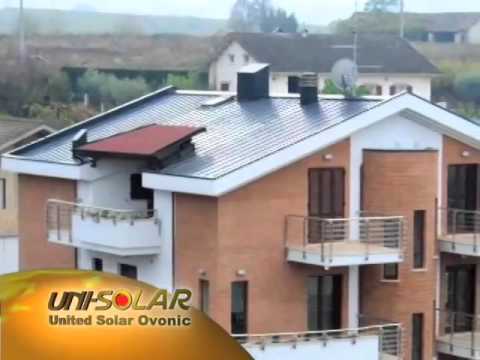 UNISOLAR PVL-136 Solar Power Amorphous Flexible PV Panels - YouTube
Video will open in a new window
[isdntekvideo]
View All
Close