Description
Uni-Solar PVL-24 5V 24W Flexible Amorphous 3-Foot Long Solar Panel Battery Charger. Combine 3 of these panels in series to increase voltage for charging 12 Volt Batteries. We include free MC3 Cables and Junction box for DIY installations.
Category 3 (130 MPH) Hurricane uplift resistant when installed in accordance with manufacturer's guidelines.
Designed for 5V USB voltage charging (No USB port Included). Combine multiple panels to increase voltage as needed for various battery configurations. Small form factor for custom Vehicle solar charging. These 36 inch long 3 cell panels are the shortest PVL Series panels Unisolar Made allowing multiple panels to be connected to fit small roof surface applications such as Golf Carts, VW Vans and Experimental Electric Vehicles. Panels are roll-able to about 6 inches in diameter to take hiking and backpacking.
Previous customers have reported installing these panels on their corrugated metal roofs by attaching 18" x 2" metal strips every few feet on the sticky backing, leaving the white covering for the sticky backing intact where the metal strips are not present (saving the sticky material for other projects in case the panel is moved later). They then drove self-tapping screws through the protruding ends of the metal strips onto their metal roof, sealed with a proper caulk. This allowed them to install the panel with its built-in sticky backing and yet keep the installation non-permanent.
Electrical Stats:
Maximum Power (Pmax): 24 Watts
Nominal Operating Voltage: 5 Volts (approximately)
Max Power Voltage (Vmpp): 4.6 Volts
Max Power Current (Impp): 5.2 Amps
Open Circuit Voltage (Voc): 6.1 Volts
Physical Stats:
Panel Dimensions (Feet): 3 long x 1.29 wide
Panel Dimensions (Inches): 36 long x 15.5 wide x 0.2 thick
Panel Weight: 2.75 Pounds
Electrical Connectors:
None: Solder Points on top of panel
Features:
Lightweight & Flexible
Easy Peel & Stick Application
Virtually Unbreakable (No Glass)
Shadow & High Heat Tolerant
Frame Material: Frameless
Bonding adhesive factory-installed on the back of the laminate
Uni-Solar panels are lightweight, flexible and directly adhere to many roofing surfaces avoiding penetrations. Each cell is connected to each other via bypass diodes. Therefore, if one cell is shaded or soiled, only the power output of this one shaded cell is lost - usually less than 4.5%.These panels are less than 1/5th the weight of crystalline solar panels and are designed for membrane and metal roofing system applications. Here is a video with many examples.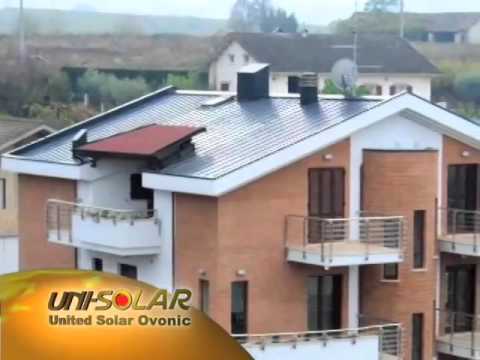 UNISOLAR PVL-24 Solar Power Amorphous Flexible PV Panels - YouTube
Video will open in a new window
[isdntekvideo]
Condition: Open Box
New Open Box. This panel has top-facing solder points for connections above the panel. When 3 of these panels are combined in series they will produce a good voltage for charging 12 Volt Batteries. We include a DIY Junction Box with 18-Inch MC3 Connectors with every panel sold, but other components may be needed depending on the desired setup, such as short wires to connect the solder points to the j-box, and/or a sealant to connect the j-box securely to the panel. It is 3 feet long by 15.5 inches wide. Please view our photo set and contact us if you have any questions.
View All
Close