Uni-Solar PVL-116 UL LISTED 3.4KW Carton of 30 Flexible 24V Solar Panels w/ MC3
SKU:

44038

UPC:

MPN:

PVL-116

Condition:

New

Shipping:

Calculated at Checkout
Description
Uni-Solar PVL-116 *UL LISTED* 3.4KW TOTAL POWER - Carton of 30 Flexible 24V Solar Panels with MC3 Connectors
These are similar to the PVL-128 and PVL-136 panels but are 1 cell shorter.
These cartons can be stacked and shipped three high for reduced shipping costs on multiple carton orders.
Uni-Solar panels are lightweight, flexible and directly adhere to many roofing surfaces avoiding penetrations. Each cell is connected to each other via bypass diodes. Therefore, if one cell is shaded or soiled, only the power output of this one shaded cell is lost - usually less than 4.5%.These panels are less than 1/5th the weight of crystalline solar panels and are designed for membrane and metal roofing system applications.
Maximum Power (Pmax): 116 Watts
Nominal Operating Voltage: 24 Volts
Peak Power (Volts): 30 Volts
Peak Power (Amps): 3.88 Amps
Open Circuit Volts: 43.2 Volts
Short Circuit Amps: 4.8 Amps
Max System Voltage: 600 Volts
Module Efficiency: 6.2%
Lightweight & Flexible
Easy Peel & Stick Application
Virtually Unbreakable (No Glass)
Shadow & High Heat Tolerant
Frame Material: Frameless
Module Connector: MC3
Bonding adhesive factory-installed on the back of the laminate
Panel Dimensions 16.6' x 15 3/8
Panel Weight 15lbs.
Carton Weight and Dimensions: 360 lbs 45w by 45d by 24h
This carton of 30 solar panels is New Open Box. See our main website for a link to a brochure / spec sheet of solar panels. Please view our photo set and listing and contact us with any questions.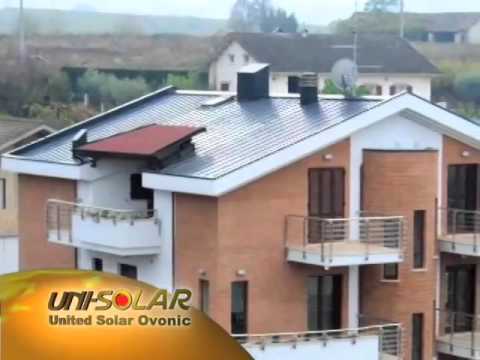 UNISOLAR PVL-136 Solar Power Amorphous Flexible PV Panels - YouTube
Video will open in a new window
[isdntekvideo]
View All
Close